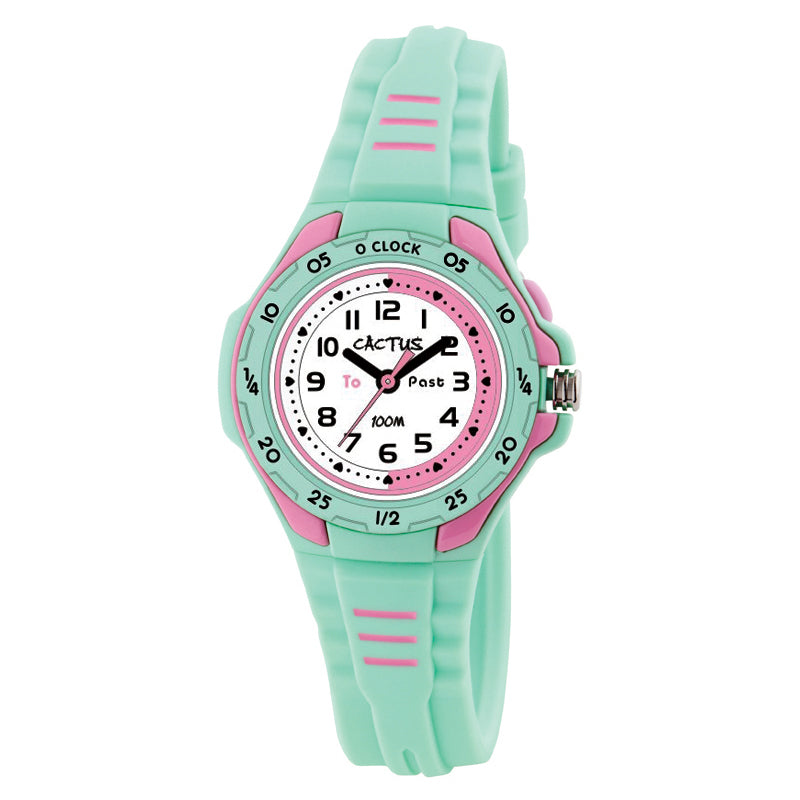 Time Teacher Mint Green 100m Watch
Cactus is an Australian range of watches for children and teens that are inspired by the Australian landscape. They are great value, durable, have easy-to-read dials, and have contemporary and universal designs.
This Time Guide has a specially designed face with an outer ring marked with shading on one half & is marked with To and Past the hour, which makes learning how to tell the time super easy!
This watch has a 100m water resistance meaning it can withstand showers, baths and swimming. It's presented in a very cool light bulb case and has a 1-year warranty. Length – 22cm. The diameter of the watch face is 3.5cm.
A bonus feature is the electro-luminescent backlight, just press the button and the watch is backlit for 3 seconds. The band also has 2 loops for secure fastening.
Please Note: Contains Coin Battery. Keep new and used batteries away from children. Dispose of used batteries immediately. A Coin battery can cause serious injuries if it is swallowed or placed inside any part of the body. If you think that batteries might have been swallowed or placed inside any part of the body, seek immediate medical attention.
SPECIFICATIONS
Age Recommendation: 4 Years +
Dimensions: 22cm x 3.5cm x 1cm
Country of Design: Australia
Country of Manufacture: China
Primary Material: Various
Assembly Required: No
Gift Wrap Available: Yes
Brand SKU: CAC-116-M12
Shipping Type: Standard