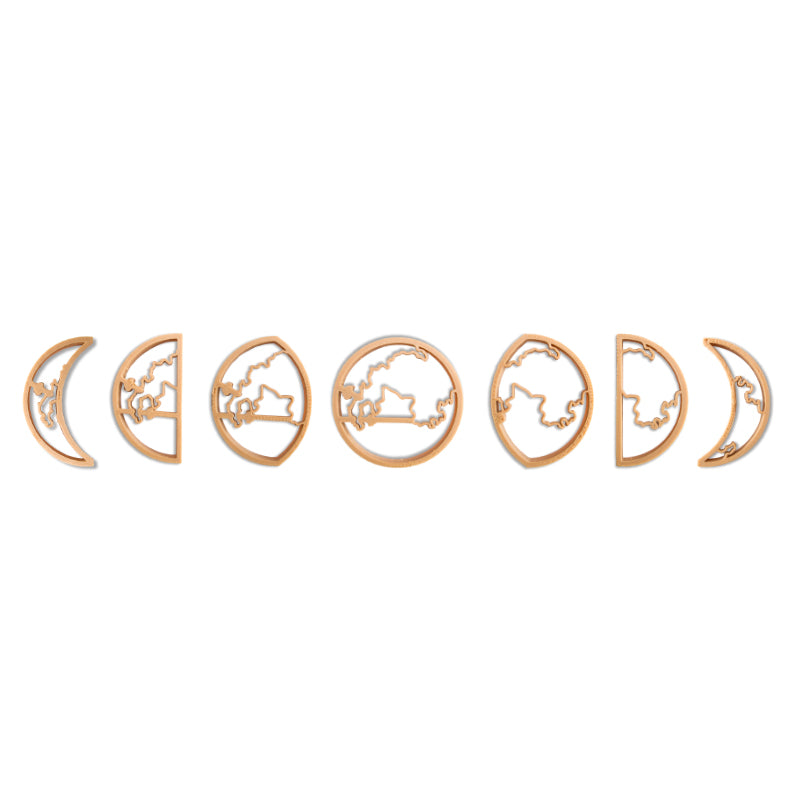 Moon Phases Dough Cutter Set 7pc *
The Kinfolk eco friendly dough cutters are designed and made in Australia by a husband a wife team behind Kinfolk Pantry. The Moon Phases Dough Cutter Set 7 Piece set is made from recycled wood-mill sawdust and plant based biodegradable plastic. Made in small batches, each cutter will have its own unique charm and character. The pieces range in size - 8.5cm x 8.5cm, 6cm x 8cm, 4.5cm x 8cm.

Playing with play dough will assist children in building their own creativity, sensory learning and fine motor skills. The collection of cutters, in a nature-inspired tone can be used together with play dough or cookie dough.

Simply use a dry cloth to wipe off any remaining dough to keep them clean. Avoid leaving dough cutters in direct sunlight or moisture. Store cutters in a cool, dry place when not in use and don't forget, they will wear faster than traditional plastics. Being eco friendly, they will age as everything is supposed to, and leave little behind.
SPECIFICATIONS
Age Recommendation: 3 Years +
Dimensions: 11cm x 10cm x 7cm (7 pieces)
Country of Design: Australia
Country of Manufacture: Australia
Primary Material: Recycled wood-mill sawdust and PLA plastic
Assembly Required: No
Gift Wrap Available: Yes
Brand SKU: 
Shipping Type: Standard