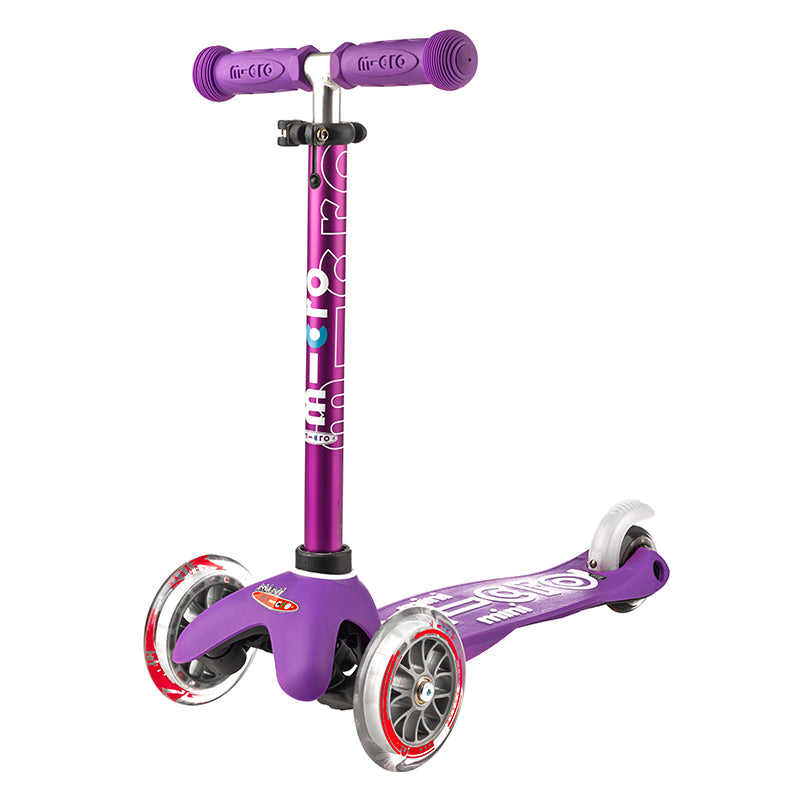 Mini Micro Deluxe Scooter Purple
The much anticipated Mini Micro scooter deluxe is here. This is an upgraded version of the classic, award winning original mini micro scooter. Key design features in the deluxe model include an adjustable t-bar, an anodised stem which looks great and helps prevent corrosion; and a raised silicon deck which provides stability and better grip.
Mini micro scooters are a perfect first scooter for children. They are great for developing balance, coordination and motor skills. They are especially designed for younger children with low ground clearance in case of a fall. The micro has two wheels at the front so it is more stable for beginner scooters, and is easy to manoeuvre. It has large wheels for a smooth ride and a T-bar steering column that provides for safety and stability. The T-bar has an intuitive 'lean and steer' feature which children love. The well designed brake is super responsive and just the slightest pressure will gently halt the scooter. Make your walks whinge free as your child cruises along next to you on a mini micro. We always recommend that children should wear helmets when scooting.
Key features
Age guide: from 2-5 years
Maximum weight limit: 35kg
Scooter weight: 1.9kg (perfect for littlies)
Handlebar height: 43-68cm (this means it suits children up to 110cm tall)
Wheel size: 120mm on the front and 80mm on the back
Deck width: 11cm
Deck length: 27cm
Ground clearance: 3cm.
Swiss designed and engineered, check out the details on the video tab.

SPECIFICATIONS
Age Recommendation: 2 - 5 Years
Dimensions: 55cm x 14cm x 26cm (Box)
Country of Design: Switzerland
Country of Manufacture: China
Primary Material: Aluminium
Assembly Required: Yes
Gift Wrap Available: No
Brand SKU: MMD004
Shipping Type: Standard